McConnell Air Force Base is a United States Air Force base located four miles (6 km) southeast of the central business district of Wichita, a city in Sedgwick County, Kansas, United States.  The base was named in honor of Wichita brothers Fred and Thomas McConnell, both Air Force pilots and World War II veterans. It is the home of Air Mobility Command's 22d Air Refueling Wing (22 ARW), Air Force Reserve Command's 931st Air Refueling Group (931 ARG), and the Kansas Air National Guard's 184th Intelligence Wing (184 IW).  McConnell's primary mission is to provide global reach by conducting air refueling and airlift where and when needed.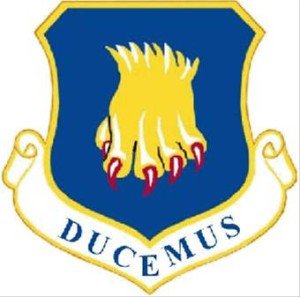 —-
Facebook Forum/Pages
McConnell AFB KS, Passenger Terminal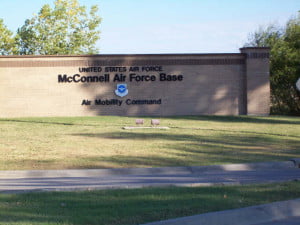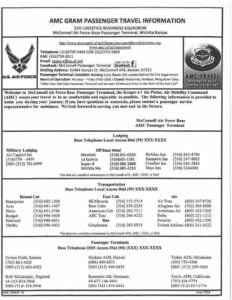 —-
Space A Information
72 Hour Flight Recording: DSN 743-5404 Commercial 316-759-5404
Service Counter: DSN 743-4810 Commercial 316-759-4810
Fax: DSN 743-3011 Commercial 316-759-3011
E-mail: space-a@us.af.mil
Hours of Operation:
Monday – Friday 0730 to 1630
Long Term Parking: Free available parking in front of the passenger terminal building #1220.  Contact a Customer Service Rep for more details.
Inside McConnell AFB – Signing Up
Inside McConnell AFB Passenger Terminal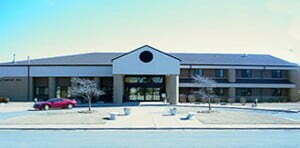 —-
Hotels/Motels/B&B/Hostels/RV Parks/Camping Grounds
Air Force Inns – Air Capital Inn
Hotel Planner, About Careers – Temporary Lodging, Military Hotels, Trip Advisor, RV Park Reviews, PCS Lodging, Hotel Guides, Hotels.com
Trails – Vacation Rentals, All Stays – Kansas RV Parks & Campgrounds, Military Installations – Temporary Housing
US Military Campgrounds and RV Parks, Military Living – Kansas Temporary Military Lodging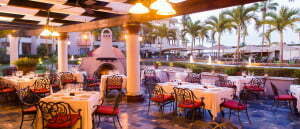 —-
Restaurants/Cafes/Bars/Night

Clubs
Yahoo Local – Restaurants, Bars & Clubs, Cafeterias
Yellow Pages – Restaurants, Bars & Pubs, Cafeterias
Wichita Dining Guide, Visit Wichita, Trip Advisor, Yelp, Yellow Book, Find Near Me, Zomato, Movoto, 360 Wichita, Cvent, Groupon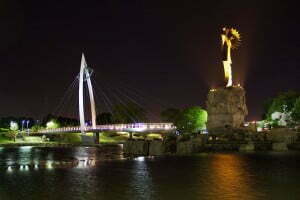 —-
Activities/Things

to Do
Find Near Me, Events Near Here, McConnell Housing – Local Attractions, Scout Me, Trip Advisor, Virtual Tourist, Roadside America, American Towns, 360 Wichita, Traveling Mom, Planet Ware, Wichita Links, Visit Wichita, Wichita on the Cheap, Family Days Out
Urban Air Trampoline Park (Indoors), The Orpheum – Music Events List, Eventful, Botanica Gardens, Groupon, Hotel at WaterWalk – Local Attractions, Kansas Aviation Museum – Activities for Kids

—-
Transportation
Travel to/from Wichita Mid-Continent Airport: Transportation to and from Wichita Mid-Continent Airport is offered by local taxi companies.  Speak with a Space-A representative for a list of taxi services.
Public Transit
No available on-base transit
Rental Car
Enterprise: (316) 682-1200   –  Avis: (316) 681-1478  –  Hertz: (316) 651-5748  –  Budget: (316) 946-4400  –  National: (316) 946-4851  –
Thrifty: (316) 946-4403
Taxi
SEA Breeze: (316) 312-2314  –  ABC Taxi: (316) 264-4222  –  American Cab: (316) 262-7511  –  Best Cabs: (316) 838-2233
Bus
Greyhound: (316) 265-8819
Air
Air Tran: (800) 247-8726  –  Allegiant Air: (702) 505-8888  –  American Air: (800) 433-7300  –  Delta: (800) 221-1212  –  United Airlines: (800) 241-6522  –  Frontier: (800) 432-1359
Yellow Pages Airport Transportation, Car Rental, Taxi Services
Magic Yellow – Airport Transportation Services, Gig Masters – Cadillacs and Limos, Local – Car Rental, Military Avenue, Fly Wichita – Dwight D. Eisenhower National Airport, Airport Shuttles
Yahoo Local – Taxi Services, Car Rental, Buses

—-
Hospitals/Dentists/Medical Centers/Clinics
About Careers – Medical Care, US News Health – Nearby Family Doctors, Childrens Mercy – Kansas City, U Compare Healthcare, Wesley Medical Center
Yellow Pages Hospitals, Dentists
Robert J. Dole VA Medical Center, Services, Military Installations – Health Care, Health Care/Special Needs


—-
Maps, Guides and Base Facilities
Map Quest – Wichita, Military Living, About Careers – Location/Driving Directions
Commissary, Shop My Exchange, Base Library, Military Installations – Directions, Visit Wichita, City of Wichita, Chamber of Commerce


—-
Government/Military Organizations/Retiree Activities 
Area VII McConnell
22 MSG/CCS 57837 Coffeyville Street Suite 204
McConnell AFB KS 67221-3504
Hours: 0800 – 1600, Monday – Friday
Phone: 316-759-3829/4411
—
Military.com Base Guide – Vets and Retirees, Kansas VFWs, American Legion
Yellow Pages – Veteran/Military Organizations, Government Offices
US Dept of VA – Kansas Locations, Vet Center, US Dept VA – Wichita Regional Benefit Office, Robert J Dole Medical Center

—-
Phone Numbers
Phone Directory, Fact Sheet Frequently Requested Phone Numbers, My Base Guide Directory Quick Reference Guide, 22nd Force Support Squadron Useful Phone Numbers, About Careers – Main Phone Numbers, DoD Housing Network Base Directory, Military Installations – Installation Contacts

—-
Other Excellent Links
Info Please – Wichita, Kansas, The Military Zone, Military Bases.com, USA.com
Military Installations – Fast Facts, Installation Overview, Emergency Assistance
Genealogy Trails, US Census Bureau – Quick Facts, Awesome America – Kansas, 50 States, City/Town Info, Movoto – 49 Things You Probably Didn't Know About Wichita