Naval Air Station Joint Reserve Base New Orleans is a base of the United States military located in Belle Chasse,  unincorporated  Plaquemines Parish, Louisiana, United States.  NAS JRB New Orleans is home to the 159th Fighter Wing, USCG Air Station New Orleans, a Marine Corps Reserve unit as well as other US Navy & US Army activities. The base has a 24/7 operating schedule to support both the 159th FW's NORAD air defense/homeland security requirements and for Coast Guard Air Station New Orleans search and rescue/maritime law enforcement missions. It contains a military airport known as Alvin Callender Field which is located three nautical miles (6 km) south of the central business district of New Orleans. The base's predecessor, NAS New Orleans, occupied the current location of the University of New Orleans's principal campus until 1957.
—-
Facebook Forum
—-
Facebook Pages
—-
Space A Information
Pax: 504-678-3101 – Rec: 800-222-7549 – Fax: 504-678-9575
     Space-A signup is for an individual scheduled flight only.
Pax: 504-678-3101
Rec: 800-222-7549
Fax: 504-678-9575
Billet: 504-678-3914
Navy Lodging (http://dodlodging.net/NAS_NEWORLEANS.HTM)
*Fax must include, front and back I.D.card and the flight you want
Terminal Open: 0730-2300
Flight info:(transient Ops): 504-678-3602 or 3603 
—
—-
DATAeGRAM
***Note*** You will need to be a member of our free Space A forum to view this Data eGram.  Sign up here:  https://www.facebook.com/groups/348467078566446/
—-
Retiree Activities
2300 General Meyer Avenue
Naval Air Station Joint Reserve Base New Orleans
New Orleans, LA 70142-0000
Tel: (504) 678-2647
—-
New Orleans Veterans Resource Center
2200 Veterans Boulevard
Suite 114
Kenner, LA 70062-0000
Tel: (504) 565-4977 
Military.com Base Guide – Vets and Retirees
—-
Lodging
Billet: 504-678-3914
About Careers – Temporary Housing
DoD Lodging – Navy Gateway Inns and Suites
Military Installations – Temporary Housing
Military Living – Louisiana Temporary Military Lodging
—-
Restaurants
Bring Fido – Restaurants that Allow Pets
—-
Attractions/Things to Do
Family Days Out – Kids Things to Do
RV Parking – New Orleans JRB/NAS Campground
iRV2 -NAS New Orleans- FamCamp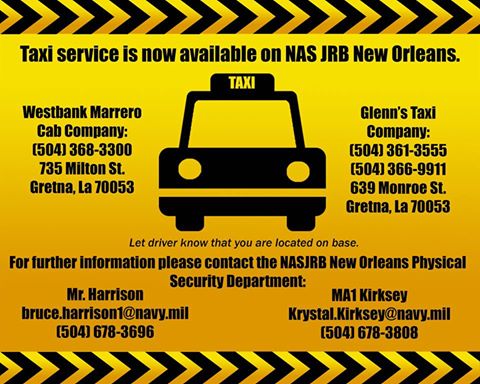 Transportation
Services on Request – Car Rental
Yellow Pages – Shuttle Service
—-
Medical/Dental Centers
Military.com – Base Guide – Health Care
About Careers – Installation Overview – Medical Care
Yellow Pages – Hospitals and Medical Centers
Wikipedia – List of Louisiana Hospitals
Military Installations – Health Care/Special Needs
Military Installations – Health Care
—-
Maps, Guides and Base Facilities
Belle Chasse Main Exchange
400 Russell Ave
Building No. 502A
Belle Chasse, LA 70037
(504) 678-2057
—
CNIC – Facilities and Resources
About Careers – Installation Overview – Location and Driving Directions
My Base Guide – Services on Base
My Base Guide – Fleet and Family Support Center
My Base Guide – Area Organizations
City Guide – 25 Best Bars in New Orleans
PCS America – NSA JRB New Orleans
Military Installations – Directions
—-
Military Organizations
US Dept of VA – New Orleans Regional Benefit Office
—-
Phone Numbers
 My Base Guide (pdf)
About Careers – Installation Overview – Main Phone Numbers
Virtual MyBaseGuide – 2012 Telephone Directory.pdf
Military Installations – Installation Contacts
—-
Other Excellent Links
Military Only Travel – Worthy Websites
Louisiana National Guard – ID Card-RAPIDS- DEERS Contact Information
Military Installations – Fast Facts
Military Installations – Installation Overview