Arnold EDC (AFB) TN 37388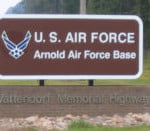 NO AIRCRAFT THEREFORE NO SPACE A
To be deleted soon.
Arnold Air Force Base is a United States Air Force base located in Coffee and Franklin counties, Tennessee, adjacent to the city of Tullahoma. It is named for General Henry "Hap" Arnold, the father of the U.S. Air Force.
There is no longer an active airfield or strip on the base; and no Air Force aircraft fly into or out of Arnold Air Force Base. The airfield was decommissioned in 2009. Army aviation assets (helicopters) continue to fly in and out of Arnold as part of missions supporting Fort Campbell, Kentucky or the Tennessee Army National Guard.
The base is home to the Arnold Engineering and Development Complex (AEDC), the most advanced and largest complex of flight simulation test facilities in the world. The center operates 58 aerodynamic and propulsion wind tunnels, rocket and turbine engine test cells, space environmental chambers, arc heaters, ballistic ranges and other specialized units. AEDC is an Air Force Test Center organization.
—-
Facebook Forum
—-
Facebook Pages
Engineering Development Complex
—-
Space A Information
Arnold Air Force Base has no aircraft; therefore, no "Space A" terminal.  The closest military base with a "Space A" capability is Scott Air Force Base, located about 20 miles to the east of St. Louis, Missouri.
The best resource for "Space available" ("Space A") travel is to contact the nearest military passenger terminal. The terminal staff will have the most current information. If you plan to travel Space A, contact the passenger terminal(s) where you plan to depart for current flight information and assistance.
—-
Space A.net
No Space A. See above note.
—-
Data eGram
Data eGram for Bases with no Flights
***NOTE*** To view the Data eGram you probably will have to be a member of our free group.  You can join our group at this link: Bases with no Flights Forum
—-
Retiree Activities
Tennessee – Area IX
ARNOLD
AEDC/DPM
Retiree Activities Office
100 Kindel Dr Ste B111
Arnold AFB TN 37388-2111
Hours: By Appt, Monday – Friday.
Phone: 931-454-4574
email: [email protected]
—-
Lodging
Billeting/Quarters  DSN: 340-3099  –  Comm: 931-454-3099
Trails – Tennessee Vacation Rentals
Armed Forces Vacation Club – Knoxville Area
Military Living – Tennessee Temporary Military Lodging
—
The Cottages at Glen Eagle
Location: Naval Support Activity
Mid-­‐South, Millington, TN,
Navy Region Midwest
Reservations: 901-­‐874-­‐5653
Accommodations: 4 3-­‐bedroom cottages
Amenities: Each cottage features 2 queen size beds, 1 full size bed; living room with recliner, sleeper sofa, fireplace, television, Cable television, VCR/DVD combination; dining room; fully equipped kitchen with full size refrigerator/ice maker, microwave oven, oven, stove top, cookware and dinnerware;
1 ½ baths; telephones; irons and ironing boards; bed/bath linens; fenced in yard; and barbecue grill.
Website link: N/A
—-
Restaurants
—-
Attractions/Things to Do
10 miles to the Jack Daniels Distillery and other distillers in Lynchburg TN
US Military Campgrounds and RV Parks – FamCamp
Golf Link Golf Courses, Groupon
Inside Arnold AFB – Touring the Base
Roadside America – Tennessee Attractions and Oddities
—-
Transportation
—-
Medical/Dental Centers
Military.com Installation Guide – Medical and Dental
Yellow Pages – Hospitals and Medical Centers
—-
Maps, Guides and Base Facilities
Inside Arnold AFB – Services Branch
Distance Between Cities – Tennessee
—-
Military Organizations
Veterans of Foreign Wars
707 S Polk St
Tullahoma, TN 37388
1 931-455-7712
—
—-
Phone Numbers
Base Operator:  DSN: 340-3000  –  Comm: 931-454-3000
Arnold AFB Services Directory (pdf) (Nice looking one)
Military.com Installation Guide – Directory
DoD Housing Network – Base Directory
Military Installations – Installation Contacts
—-
Other Excellent Links
American Red Cross – Heart of Tennessee Chapter
Military.com Installations – Overview
Military.com Installations – Community
Military Installations – Installation Overview
Military Only Travel – Worthy Websites