Posts Tagged 'Pyeongtaek'
Facebook
Space A Facebook Forum, 51FW, Passenger Terminal

Space A Information
731 AMS


Passenger Terminal




Unit 2073




APO AP 96278-2073
Phone 011-82-505-784-1854, DSN (315) 784-1854/6883 
Fax: 011-82-505-784-1126, Fax DSN: (315) 784-1126
Days/Hours of Operation
Mon/Wed 0700-1800, Tues 0530-1800, Thu 0600-1800, Fri 0700-1630
 Closed on weekends
The terminal will open one hour prior to arrival or three hours prior to departure, whichever comes first, to accommodate flights operating outside of the established hours listed above.
Inside Osan AB – 731 AMS – Passenger Terminal
HubPages – Space Out on Space A, Take-A-Hop, Poppin' Smoke
Military Living – Space A FAQ, Space A.net – Osan
Originating Locations: Travis Hickam Misawa Elmendorf Yokota Seattle Kadena, & others
Common Destinations: Yokota AB, Seattle, Travis, Kunsan AB, Misawa AB, Kadena AB, Hickam, Elmendorf, Fairchild, Charleston and others –  The Patriot Express (PE) goes to Seattle every Tuesday (via Misawa) and Thursday (via Yokota). Typical flight time is 2 hours to Japan with about a 3 hour layover.  Then about another 9 hours to Seattle, arriving between 1000 & 1100 Seattle time.
Data eGram Note: Need to join our free group to view Data eGram.  Join here: Osan Space A Forum
Long Term Parking:  Available. In the parking garage next to the commissary on the third level.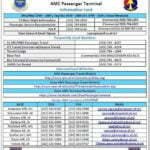 Lodging
E-mail: [email protected]  –  Billet #: 82-31-661-1844
Google Maps – Hotels, Bed & Breakfast, RV Parks (only 1), Campgrounds
Osan Guide, Inside Osan AB Lodging Fact Sheet
About Careers – Temporary Lodging, Dragon Hill Lodge
Air Force Inns, DoD Lodging, Turumi Lodge, (unofficial) Facebook Turumi Lodge
Agoda, Trip Advisor, Travel Weekly, Namsang Guesthouse
Lodging in Pyeongtaek Facebook, 51st Force Support Squadron
Restaurants & Nightlife
Google Map, AAFES – Osan Food Court, Tripod – American Style Clubs (nice site)
Osan Guide, Cassie Resendez – Songtan Eats, Trip Advisor
Cybo – Bars, pubs and taverns, Restaurants
Songtan Korea Night Club News Facebook, Virtual Tourist Songtan Nightlife
American Restaurants in Pyeongtaek Facebook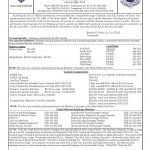 About Careers – Main Phone Numbers
Base Directory, Phone Directory
Inside Osan AB Helpful Numbers
Attractions & Discounts
Visit Korea – Incheon, Pyeongtaek, Songtan Special Tourist Zone
Trip Advisor, US Military.com – Visit Exotic Osan 
Visit Seoul See & Do Hangang River Cruise, Top 10 Attractions
Every Trail – Hiking Trails and Trips, USA Today – Things to do Near Osan AB
51st Force Support Squadron McPherson Community Center
Transportation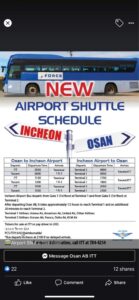 USFK Shuttle Bus- Recommended. The bus travels directly from the Airport to the Dragon Hill Lodge at no cost for DOD ID Cardholders. The shuttle bus operates daily until 2200 hrs.  Shuttle Schedule and Other Information (pdf)
At Seoul Airport (Incheon) go out exit 8, look left, you will find the express bus ticket counter where you buy your ticket that will take you to Songtan. Buses are right there by the ticket counter.  Songtan is where you get off, NOT the Osan station, which you will come to first. Cost is 11,300 Won (about $10) and is a comfortable ride.
Inside Osan Air Base, Korea 4 Expats – Seoul Taxi Fares
WorknPlay – Transportation Information, Visit Seoul Getting Around Subway
I Hate Taxis – Airport Hotels with Shuttle Service
Songtan Station, Rome2Rio – Songtan to Seoul
USAG Humphrey's MWR – Pyeongtaek to Seoul – Public Transportation
Medical & Dental
Google Map – Hospitals, Dentists
About Careers – Medical Care, Cybo – Health & Medical
Inside Osan AB 51st Medical Group, 51st Medical Group Facebook
Wikipedia – List of Hospitals in South Korea
Guides
Map Quest – Songtan South Korea
Distance Between Cities – Seoul to Osan AB
 51st Force Services Squadron, Osan Guide, Visit Korea
About Careers – Location/Driving Directions
Military Living, Shop My Exchange, Commissary, Virtual Tourist
Backpack Bees – Songtan Map – Restaurants and Hotels
Beagle Bass – A Foreigner's Guide to Songtan
Military Organizations
OSAN
51 FSS/CVR
Unit 2065
APO AP 96278-2065
Hours: 0900-1500 Monday-Friday
Phone: 011-82-31-663-0319
E-mail: [email protected]     
VFW 10216 Facebook, VFW 10216, VFW Post 10216
Korean War Veteran Association, Inside Osan AB
US Embassy – Seoul, American Presence Post – Busan
Excellent Links
The Military Zone, Vet Friends, Eve in Korea