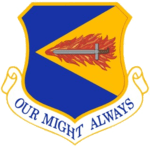 Davis-Monthan AFB –  is a United States Air Force base located within the city limits approximately 5 miles (8.0 km) south-southeast of downtown Tucson, Arizona. It was established in 1925 as Davis-Monthan Landing Field. The host unit headquartered at Davis–Monthan is the 355th Fighter Wing assigned to Twelfth Air Force, part of Air Combat Command (ACC).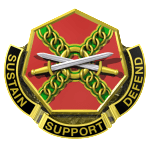 Fort Huachuca  – is a United States Army installation under the command of the United States Army Installation Management Command. It is located in Sierra Vista in Cochise County, southeast Arizona, about 15 miles (24 km) north of the border with Mexico and at the northern end of the Huachuca Mountains, next to the town of Sierra Vista. The major units are the United States Army Network Enterprise Technology Command (NETCOM) and the United States Army Intelligence Center. Libby Army Airfield is on post and shares its runway with Sierra Vista Municipal Airport.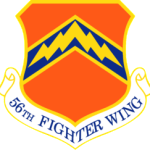 Luke AFB  –  7 miles W of Glendale , 15 miles W of Phoenix.  Luke Air Force Base is an active-duty F-16 Fighting Falcon training base with 170 F-16s assigned. The host command at Luke is the 56th Fighter Wing (56 FW), under Air Education and Training Command's 19th Air Force.  Luke Air Force Base was named after Second Lieutenant Frank Luke (1897–1918). Lt Luke is a posthumous Medal of Honor recipient and the number two United States ace in World War I.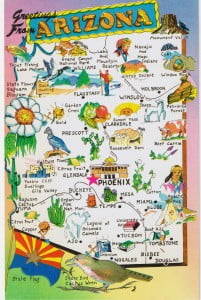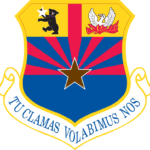 Phoenix Sky Harbor IAP/ANG –  is a civil-military public airport 3 miles (5 km) southeast of downtown Phoenix, in Maricopa County, Arizona, United States. It is Arizona's largest and busiest airport, and among the largest commercial airports in the United States.  It is dubbed America's Friendliest Airport, is the main airport for the Greater Phoenix area. Sky Harbor serves more than 100 domestic and international destinations. With 1,200 daily flights—about 500 of them nonstop—Sky Harbor is one of the most convenient airports in the United States.
Yuma MCAS – 2 miles from Yuma, Shares airport with Yuma IAP.  Home to multiple squadrons of AV-8B Harrier IIs of the 3rd Marine Aircraft Wing, Marine Aviation Weapons and Tactics Squadron 1 (MAWTS-1) and Marine Fighter Training Squadron 401 (VMFT-401), an air combat adversary squadron of the 4th Marine Aircraft Wing of the Marine Corps Reserve.
Arizona to Arizona – Air Miles/Ground Miles
Davis-Monthan to Ft. Huachuca  51.21/71.2, Luke 130.16/149, Sky Harbor IAP 110.96/122, Yuma 220.28/252
Ft. Huachuca to Luke 181.17, Sky Harbor IAP 162.17/183, Yuma 259.64/312
Luke to Sky Harbor IAP 22.18/27.5, Yuma 141.72/175
Sky Harbor IAP to Yuma 158.73/190
(with Interactive Map)