[smartads] Facebook
Yokota AB Facebook Forum Files
Space A Information
The newly renovated Air Mobility Command (AMC) Passenger Terminal is on the main part of the base next to the flight line. It is a 5- to 7-minute walk from the Kanto Lodge  and offers Space-Available flights to various destinations in PACAF such as  Alaska,  Guam,  Hawaii,  Korea,  Okinawa,  Singapore, as well as the Contiguous United States.
AMC Passenger Terminal: DSN: 315-225-5661/ 5662  –  Commercial:  81-3117-55-5661 
If you are calling from a Japanese Cellphone: 042-552-2510 then dial 5-5660/1/2
At this time they do not send confirmation e-mails.
Flight Schedule Recording:  DSN 315-225-7111  –  Commercial:  81-3117-55-7111
Generally they are Monday, Tuesday, Thursday from Yokota

and

Tuesday, Wednesday, Friday from Singapore

.

There are variances based on national holidays in Singapore and United States where flights generally will delay 24hrs.

The Monday/Thursday flight is a contracted 757 cargo/passenger aircraft that can carry up to 41 pax. The Tuesday flight is a C-17 and generally only offers 10 seats.
Suggest avoiding "Golden Week", basically the first week of May.  Everyone in Japan has vacation. Lines longer than normal.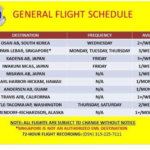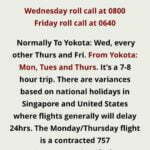 Yokota Space A Fact Sheet, Space A.net – Yokota, Poppin' Smoke
Korea Stripes – Ins and Outs of Space A Travel, Take-A-Hop
Common Destinations: Elmendorf AFB AK – Travis AFB CA – Hickam AFB HI – Sea-Tac IAP WA – Lebar Paya Singapore – Osan AB Korea – Iwakuni MCAS Japan – Misawa AB Japan – Kadena AB Okinawa
Yokota AMC Gram Passenger Travel Information (pdf)
Navy – Yokota AB AMC Flight Info (pdf)
Data eGram *Note* You need to join our free forum to view the Data eGram.  Join here: Space A Forum

Lodging
Kanto Lodge – Space-A reservations can be made up to 120 days in advance of the arrival date for up to a three night stay space permitting and based on actual and projected occupancy. Space-A guests must possess a valid ID card and credit card upon check-in. Call 224-2002 to book a reservation.
Google Maps – Hotels, Bed & Breakfast, Camping, Lodging
Trails – Travel, About Careers Temporary Lodging
Air Force Inns (Kanto Lodge), Airport-Data Hotels,TV Trip
Kanto Lodge (unofficial) Facebook Page
Force Support Squadron – Kanto Lodge
TripAdvisor – Hotels, Vacation Rentals
Virtual Tourist, Trivago, Airbnb, Ukka Hotels in Fussa
Military Installations – Temporary Housing, Hostel World
Hotels Combined, Travel Weekly, Tokyo Hotel Desk
The New Sanno, Military Living – Japan Temporary Military Lodging
(The New Sanno is in Tokyo, but US Navy run) – There's a daily shuttle bus going to the New Sanno Hotel in Tokyo. Cost $8 one way per ID card holder and leaves Kanto Lodge at 0900.


Restaurants & Night Life
Those eligible to dine at the Samurai Café (Chow Hall) are: Active duty enlisted personnel, retirees, TDY DoD Civilians and TDY Officers when directed on orders, officers and active duty military family members for federal holidays and during base shut-downs.
Inside Yokota AB – Yokota Dining Facility
Google Maps – Restaurants, Cafes, Bars, Night Clubs
TripAdvisor – Best Fussa Restaurants, Gurunavi – Fussa Restaurant Guide, Yokota List (nice site), Trails – Italian Restaurants in Fussa, Japan Visitor – Bars & Clubs in Tokyo, Time Out – Best Tokyo Bars with a View
Yokota Travel, Shop My Exchange – Food Court, Tsunagu Japan – 9 Good Places for Dessert Buffets in Tokyo
Go Tokyo – Recommended Restaurants, Yelp – Best Restaurants in Fussa, Rocket News 24 – Japan's 10 best restaurants, as chosen by foreign travelers
Force Support Squadron – Restaurant Guide, Enlisted Club, TripAdvisor – Best Tokyo Restaurants, Japan Guide – Restaurants, Stars & Stripes Japan – Restaurant Guide, All You Can Eat Restaurants by Military Bases
Phone Numbers
Red Cross Emergency Number:  315-225-7522  –  24 hour: 1-877-272-7337
Anglo Info – Emergency Numbers in Japan
Inside Yokota AB – Frequently Called Numbers, Military Living
About Careers – Main Phone Numbers, Base Directory
Military Installations – Installation Contacts
—-
Attractions & Discounts
Google Maps – Attractions, Events
Gogobot, Yokota Travel – Fussa Sightseeing
TripAdvisor – Fussa, Tokyo, Sky Hop Bus Tours
Virtual Tourist – Travel Guide, Day Trip out of Tokyo, Tokyo
Time – Tokyo: 10 Things to Do, Wa-Oh Japan – 5 Out of the Way Sightseeing Spots in Tokyo Area
Force Support Squadron: Outdoor Recreation, Tama Hills Rec Area, Info Tickets & Travel
Military Living – Tama Hills Recreation Area

—-
Transportation
Best way I know to get to the Fussa Train Station a/o Sept. 2014:  Upon arriving in Yokota, use the free phones in the phone booths in the lobby. Call the Kanto Lodge and ask their free shuttle to pick you up.  It is a quick ride from the terminal. Take their shuttle to the lodge and ask the front desk to call you a cab. They will call the cab company that has approval to come on base. The cab will take you right to the Fussa Station. Price should be around $20 and it's best to pay in yen.  You can get yen and/or dollars at the ATM in the hotel lobby. It is a Community Bank ATM (Bank of America) last time I was there.  I highly suggest that you look up your train route ahead of time and have it saved on your phone.          Train Route Finder
EVERYTHING is in Japanese at the train stations and none of the workers at the train station seem to speak English! Look up your routes ahead of time, take them to the office at the train station and point to the routes (you have saved on your phone/IPAD) you want to travel and they will be more than willing to help. 
To be eligible for a Japan Rail Pass, it is necessary to enter Japan on the visa 'Temporary Visitor' status, which authorizes a stay in Japan of less than 90 days for unpaid activities.  In many cases this visa is granted automatically on your arrival into Japan if you enter the country as a tourist.  However, if you enter Japan under a military/business/diplomatic visa or status then you will not receive the 'Temporary Visitor' visa and you will be unable to exchange your voucher for the pass as you status is checked at that time.  Examples of status which do not allow the use of the JR Pass are: SOFA, APEC Business Travel Card, etc…
Google Map – Car Rental, Taxi Services
Inside Yokota AB – Shuttle, Halo Shuttle Service Facebook
Japan Guide – Car Rental, I Hate Taxis – Yokota AB Airport Taxi
Rental Cars 24H, Hyperdia, Tokyo Tokyo Train Guide, East Japan Railway Company
Force Support Squadron Shuttle Bus Schedule, Inside Yokota AB Transportation to Narita
JTSA – Car and Driver Hire, Cybo – Taxi, Rome2Rio – Fussa to Tokyo DisneySea
Jorudan – Train Route Finder, City Travel Guide – Car Rental, A Guide for Traveling Japan for Cheap with Higway Buses
Maplandia Airport Car Rental, Airport Limousine Bus, Airmen Express Facebook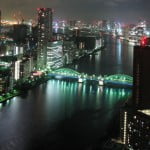 [smartads] Medical & Dental
Google Map – Hospitals, Dentists
Cybo – Hospitals, About Careers – Medical Care
US Embassy – Medical Resources in the Tokyo and Surrounding Area
Military Installations – Health Care/Special Needs, Health Care
Expats Guide to Japan – Hospital and Clinics (Tokyo)
Medical Excellence – Healthcare in Japan, Inside Yokota AB – 374 Medical Group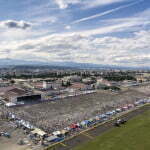 Guides
 Yokota Travel Guide (.pdf complied by Officers Wife's Club)  (detailed and informative)
TripAdvisor Travel Guide, Japan Visitor, Virtual Tourist – Fussa Travel Guide
Yokota Travel, Where in Tokyo – Fussa's Ishikawa Brewery, Yokohoma Visitors Guide
The Expat's Guide to Japan, Anglo Info – Travel Agents & Trip Planners-Tokyo
About Careers – Location/Driving Directions, Commissary, Shop My Exchange
Military Living, Military Installations – Directions
Getting Around – US Navy – Ports of Call – Japan, 374th Force Support Squadron

Military Organizations
374 AW/CVR
Unit 55119  –  Bldg. 535
APO AP 96328-5078
Hours: 0900 – 1200, Monday, Tuesday, Thursday & Friday; 0900-1500 Wednesday
Phone: 011-81-425-2510 Ext 5-8324
E-mail: [email protected]  –  Web Address  –  Facebook
Yokota VFW Facebook, USO in Yokota Facebook
US Consulate (and American Center) – Nagoya
US Consulate – Osaka, Sapporo, Naha, Fukuoka
Inside Yokota AB, 374th Airlift Wing

Excellent Links
8 Unspoken Social Rules in Japan, Fly Peach, World Traveling Military Family Space A Japan
Military Installations – Fast Facts, Installation Overview, Emergency Assistance