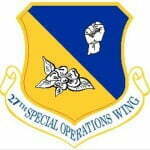 Cannon Air Force Base – Cannon Air Force Base is a USAF base, located approximately 7 miles (11 km) SW of Clovis, New Mexico. It is under the jurisdiction of Air Force Special Operations Command (AFSOC).  The host unit at Cannon is the 27th Special Operations Wing (27 SOW), which activated on 1 October 2007, and is assigned to the Air Force Special Operations Command (AFSOC).  Cannon was established in 1942 as Army Air Base, Clovis.   Named in honor of General John K. Cannon (1892–1955).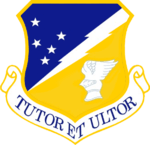 Holloman Air Force Base –  is a USAF base located 6 miles (10 km) SW of the central business district of Alamogordo, and a census designated place in Otero County, New Mexico, United States. It was named in honor of Col. George V. Holloman, a pioneer in guided missile research. It is the home of the 49th Wing (49 WG) of the Air Combat Command (ACC). It's currently home to the MQ-1 Predator and MQ-9 Reaper remotely piloted aircraft as well as more than 30 tenant units.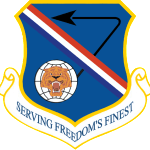 Kirtland Air Force Base –  a USAF base located in the SE quadrant of the Albuquerque, New Mexico urban area, adjacent to the Albuquerque International Sunport. The base was named for the early Army aviator Col. Roy C. Kirtland. The military and the international airport share the same runways, making ABQ a joint civil-military airport.  Kirtland AFB is the third largest installation in Air Force Materiel Command and 6th largest in the Air Force. 
New Mexico to New Mexico – Air Miles/Ground Miles
Cannon AFB to Holloman AFB 375/310, Kirtland AFB 350/300
Holloman AFB to Kirtland AFB 365/244
(with Interactive Map)