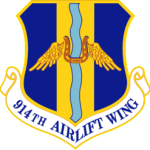 Niagara Falls International Airport/Air Reserve Base – is an Air Mobility Command military installation adjacent to Niagara Falls International Airport, New York, 4.7 miles (7.6 km) east-northeast of Niagara Falls, New York. The station is the last USAF installation in the state, the host unit is the 914th Airlift Wing of Air Force Reserve Command, and the station's Lockheed C-130 Hercules aircraft are shared by the wing's 328th Airlift Squadron and the NY ANG 107th Airlift Wing.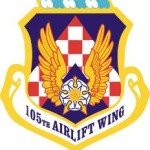 Stewart-Newburgh International Airport/Air National Guard – is the home of the 105th Airlift Wing (105 AW), an Air Mobility Command (AMC)-gained unit of the New York Air National Guard and "host" wing for the installation. The former Stewart AFB is also known as Newburgh-Stewart IAP and Stewart International Airport, while the military portion of this now-joint civil-military airport is known as Stewart ANG Base. The base is named in honor of 19th century Scottish-born sea captain, Lachlan Stewart, and his son, who donated the land it now occupies.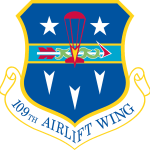 Stratton Air National Guard – has hosted the New York Air National Guard 109th Airlift Wing (in various designations) since 1949. The base is named after conservative Democratic US Representative Sam Stratton, who represented the Albany area. Stratton ANGB hosts the NY ANG 109th Airlift Wing. The wing is unique as it is the only USAF unit equipped with 10 ski-equipped C-130 Hercules aircraft, and provides the nation's only air cargo lift capability to polar destinations.
New York to New York – Air Miles/Ground Miles
Niagara Falls ANG to Stewart-Newburgh ANG 371/272, Stratton ANG 289/255
Stewart-Newburgh ANG to Stratton ANG 109/94
(with Interactive Map)