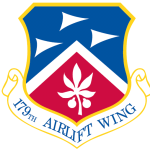 Mansfield-Lahm Air National Guard Base – is the home base of the Ohio Air National Guard 179th Airlift Wing. The 179th Airlift Wing (AW) of the Ohio Air National Guard occupies two separate portions of land (the main base area and the POL area, linked by a road included in the lease) totaling 67 acres of leased land on the Mansfield Lahm Airport. The Mansfield Lahm Airport sits approximately 3 miles north of the city of Mansfield, located in north-central Ohio, halfway between Cleveland and Columbus.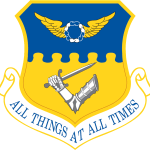 Rickenbacker Air National Guard Base (1942–present) is an ANG facility of the Ohio ANG. It is a former US Air Force Strategic Air Command (SAC) base previously named Lockbourne AFB and later Rickenbacker AFB. The base was named for the famous early aviator and Columbus native Eddie Rickenbacker. It is the home of the USAF's 121st Air Refueling Wing (121 ARW), which serves as the host wing and is an Air National Guard (ANG) unit operationally-gained by the Air Mobility Command (AMC).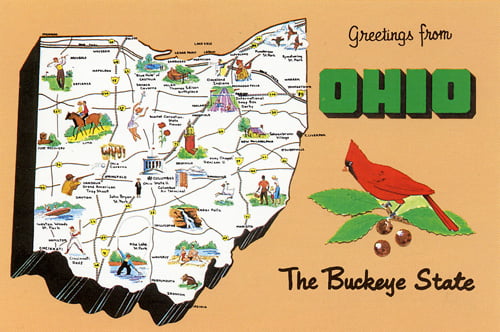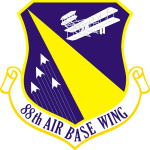 Wright-Patterson Air Force Base – is a USAF base and census-designated place just east of Dayton, Ohio in Greene and Montgomery counties. Patterson Field is located approximately 10 miles (16 km) NE of Dayton; Wright Field is located approx. 5 miles (8.0 km) NE of Dayton. Wright-Patterson AFB is the largest base of the USAF.  The host unit is the 88th Air Base Wing (88 ABW), assigned to the Air Force Life Cycle Management Center and Air Force Materiel Command.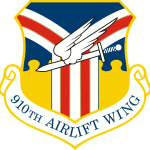 Youngstown-Warren Air Reserve Station – is a military facility located in Vienna Center, Ohio, 11 miles north of Youngstown and 10 miles east of Warren, in Trumbull County, Ohio, in the United States. The installation is located at Youngstown-Warren Regional Airport. The host wing for the installation is the 910th Airlift Wing (910 AW), an Air Force Reserve Command (AFRC) unit operationally gained by the Air Mobility Command (AMC).
Ohio to Ohio – Air Miles/Ground Miles
Mansfield-Lahm ANG to Rickenbacker ANG 84/73, Wright-Patterson AFB 134/107, Youngstown-Warren ARS 121/101
Rickenbacker ANG to Wright-Patterson AFB 78/59, Youngstown-Warren ARS 196/156
Wright-Patterson AFB to Youngstown-Warren ARS 247/204
(with Interactive Map)