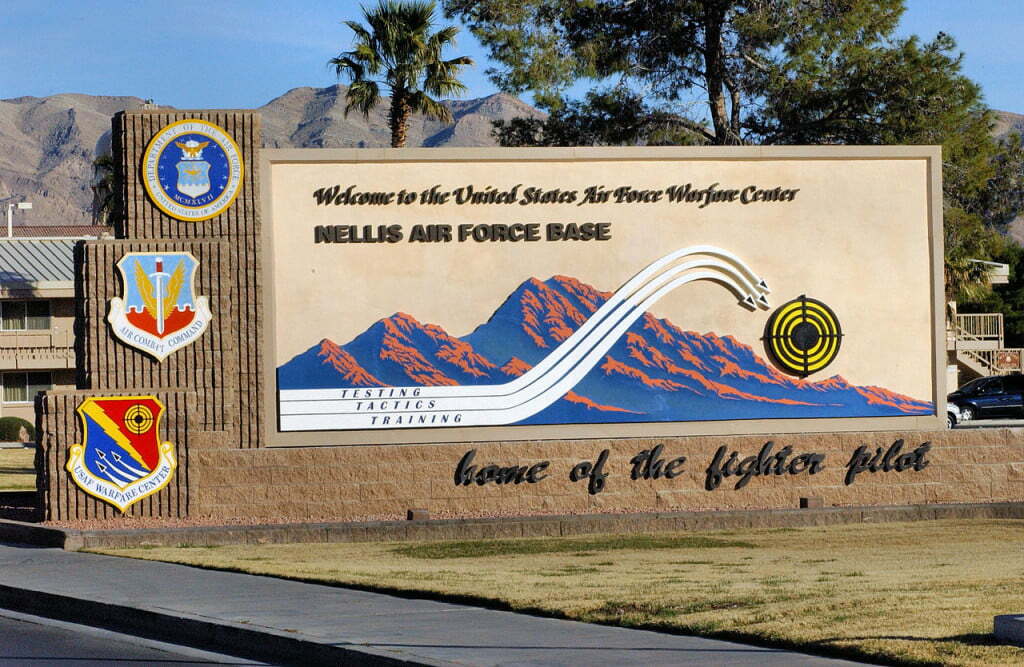 Social Media Pages
Nellis AFB Facebook Page, Nellis AFB Official Page, Inside Creech AFB
—-
Space A Information
24-Hour Flight Schedule Recording:
702-652-6099, DSN: 682-6099
Customer Service:
Open from 7 a.m. to 4 p.m.
702-652-6737, DSN: 682-6737
99th Logistics Readiness Squadron 
6155 McGough Parkway 
Building 809 
Nellis Air Force Base, Nevada 89191-7252
E-mail: [email protected]
Nellis Air Terminal Space A Travel, Space A.net – Nellis, Nellis AFB Space A Facebook Forum, Nellis Passenger Terminal, Official AMC Travel Site
—-
Lodging
Reservations Main: 702-652-2711 – Fax: 702-652-9172 – DSN Fax: 682-2711 
Email: [email protected] – Website: https://nellislife.com/
Address: Nellis AFB  
5941 Fitzgerald Blvd., Bldg. 556
Nellis AFB, Nevada, 89191
Latitude, Longitude 36.2425772087213, -115.04487991333
Creech AFB 
Tel: (702) 404-0401 – Fax: (702) 404-0456
Tel (DSN):

(312) 384-0401 – 
Fax (DSN): (312) 384-0456
Air Force Inns, PCS Lodging, Military Hotels, Hipmunk, Trivago, YouTube Video RV Campgrounds around Las Vegas
DoD Housing Network – Lodging near Creech AFB, Nellis AFB, HotWire
Yellow Pages, Hotel Planner, DoD Lodging, Trails – Vacation Rentals, Room 77
Hotel Guides, Hotels.com, About Careers – Temporary Lodging, Booking.com
RV Park Review, Hotels.com, Military Living – Nevada, TripAdvisor, Hotel Planner, Expedia, Base Directory
—-
Restaurants & Night Life
The dining facility is open to retirees only on Federal holidays.
Yelp – Crosswinds Dining Facility (Chow Hall), Shop My Exchange (Food Court), Las Vegas How-To Guide Restaurants (good one)
White Pages, Yellow Pages, Find Near Me, Punch Bowl, BBB – On base restaurants
Las Vegas, Forbes, Yelp, Fodors, Zomato, Open Table, TripAdvisor, Yelp Restaurants, Nightlife
Grubhub, Base Directory Food & Drink, Military Avenue, The Club at Nellis Facebook
—-
Phone Numbers
About Careers – Main Phone Numbers, Military.com Base Guide – Base Directory
DoD Housing Network – Base Directory, Base Directory
Nellis Phone Directory and Hours, White Pages (Nellis), My Base Guide (Nellis & Creech)
—-
Attractions/Things to Do
Area Attractions: Casinos, Madame Tussauds Las Vegas, Stratosphere Las Vegas, The Atomic Testing Museum, Fremont Street Experience
Area Events: NASCAR Nextel Cup, Viva Las Vegas, Helldorado Days, World Series of Poker, Professional Bull Riders Tour, National Finals Rodeo, Clark County Fair & Rodeo, Greek Food Festival
My Base Guide – Nellis & Creech AFBs Base Recreation and Sport, TripAdvisor, ITT Office, Maps of Nellis AFB Running Trails
Find Near Me, Events Near Here, American Towns, TripAdvisor Activities, Vacation Packages, Las Vegas How-To Guide – Things to Do, Gambling Guide, Vegas Shows, How to Get Free Stuff in Vegas
Yellow Pages – Attractions, Things to Do, Tours, Things to Do, Base Directory Fitness & Outdoor Recreation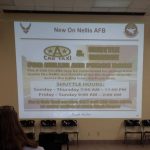 Transportation
Nellis has a base shuttle that comes twice an hour to each of the designated stop locations.  North Shuttle (Red Line) runs M-F 0700 to 1600 and South Shuttle (Blue Line) runs from 0700 to 0100 daily.
Road Runner Shuttle and Limousine, Dex Knows – Airport Shuttles, Base Directory On-Base Enterprise Car Rental, 2019 Las Vegas Bus Routes, Las Vegas How-To Guide – Getting Around
Yellow Pages – Bus, Taxi, Car Rental, Limo, Shuttle, Public Transportation, Rental Cars.com, Rome2Rio, h8 Ways to get from Las Vegas Airport to Nellis AFB, RTC Transit Services
—-
Medical/Dental Centers
My Base Guide – Medical Services (Nellis & Creech), Health Care, Hospitals and Medical Centers, For Veterans, Public Health Care, In Clark County
About Careers – Installation Overview – Medical Care,  Mike O'Callaghan Federal Medical Center on Nellis, White Pages (Las Vegas), Yellow Pages (Las Vegas)
Inside Nellis AFB – Clinic Directory, Medical Services, Military Installations – Special Needs, Health Care/Special Needs, VA Medical Center (Las Vegas)
—-
Guides
Commissary, Shop My Exchange, Las Vegas Travel Guide (good one)
Military Living, Force Support Squadron, Force Support Facebook 
My Base Guide – Facilities, Getting to and Around in Clark County, Driving and Commuting
—-
Military Organizations
Area IV – NELLIS
The RAO is located at 4475 England Ave in Bldg. 20, Room 135 (99th Force Support Squadron), adjacent to Pass and ID. Operating hours are 1000-1400 on Mondays. Their phone number is 702-652-8712 and their E-mail is [email protected].
RAO Home Page, Military.com Base Guide – Vets & Retirees
Yellow Pages – Veteran and Military Organizations
Nevada State Agencies and Departments
Best Government Agencies in Las Vegas Facebook
City of North Las Vegas, North Las Vegas Government Links
Retirement Services in A&FRC –  (702) 404-0864
—-
Excellent Links
Air Force Aid Society (AFAS) –  (702) 652-3327
Western Unions on Nellis AFB, Groom Lake – Nellis – Area 51
UPS Store on Nellis, Nevada Golf – Courses on Nellis, Distantias – Towns within 50 miles of Las Vegas
Golf Link – Courses on Nellis, Ghosts of America – Nellis Ghost Sightings