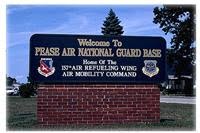 Pease Air National Guard Base is a New Hampshire Air National Guard base located at Portsmouth International Airport at Pease. Formerly, the base was open as Pease Air Force Base until it was closed in 1991. The base occupied land in the city of Portsmouth and the towns of Newington and Greenland, in the Seacoast Region of New Hampshire.  Pease is currently home to the New Hampshire Air National Guard's 157th Air Refueling Wing (157 ARW), an Air Mobility Command (AMC) gained Air National Guard unit currently flying the KC-135R Stratotanker air refueling aircraft. Additionally, it is home to the 64th Air Refueling Squadron, a United States Air Force associate unit to the 157th. Pease Air National Guard Base is approximately 220 acres (89 ha) in size and currently includes 40 facilities.  In 1957, the Air Force renamed the facility as Pease Air Force Base in honor of New Hampshire native Captain Harl Pease, Jr. who posthumously earned the Medal of Honor for heroism during World War II.
—-
Facebook Forum
—-
Facebook Pages
Passenger Terminal – Space A Schedule
—-
Space A Information
Passenger Service is maintained by the 157th Logistics Readiness Squadron Small Air Terminal.
New Hampshire Air Guard 3-4 flights each month, some overseas, usually round-trip.
Dates released 72 hours prior, time released 24 hours prior
—
24 Hour Space Available Recording
603-430-3323, DSN 852-3323
Option 1: Flights available
Option 3: Any questions or concerns
Fax: 603-430-3553, DSN 852-3553
E-mail: [email protected]

—
Military Living – Space A FAQs
PCS America – Portsmouth Naval Shipyard
—-
Space A.net
—-
Retiree Activities
Retiree Activities Office
66ABG/CVR
20 Schilling Circle
Hanscom Air Force Base, MA 01731
Phone:
(781) 225-1310
Hours of operation:
Monday through Friday, 10 a.m. to 3 p.m.
—-
Lodging
Address: Bldg H-23 Code 830
Portsmouth, NH 03804 Phone: 1-877-NAVYBED (628-9233)
Extension: POR: 767
DSN: 684-1513
Fax: 207-438-3580
—
Military One Source – Using Military Lodging and Facilities for Leisure
Military Living – New Hampshire Temporary Military Lodging
New Boston Air Force Station, NH
Reservations: (603) 471-­‐2452/2234
Accommodations: 3 Trailers, 6 Rental Pop-­‐up
Amenities: Rustic Area
Website link: N/A
—-
Restaurants
—-
Attractions/Things to Do
PCS America – Portsmouth Naval Shipyard
—-
Transportation
PCS America – Portsmouth Naval Shipyard- Car Rental
PCS America – Portsmouth Naval Shipyard – Air, Bus, Train
PCS America – Portsmouth Naval Shipyard – Local Maps
—-
Medical/Dental Centers
US Hospital Finder – Hospitals in or around Portsmouth
US News Health – Best Hospitals in Portsmouth
PCS America – Portsmouth Naval Shipyard
—-
Maps, Guides and Base Facilities
Military One Source – Pease Welcome Package (pdf)
PCS America – Commissary and Exchange
PCS America – Personal Services – Portsmouth Naval Shipyard
—-
Military Organizations
 —-
Phone Numbers
Inside 157 ARW Quick Reference Numbers (pdf)
PCS America – Portsmouth Naval Shipyard
—-
Other Excellent Links
PCS America – Portsmouth Naval Shipyard
Military.com Resources – Museum Guide – New Hampshire
Military Only Travel – New Hampshire
Military Only Travel – Worthy Websites