Facebook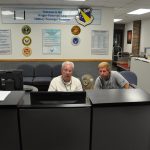 Space-A Information
DSN: 787  –  Pax: (937) 257-7741/8549  –  Rec: (937)  257-6235 or 1-866-608-2976  –  Fax: (937) 257-1580 
Passenger terminal open Mon-Fri  –  0730-1630 and for flights outside of this time frame.
E-mail: [email protected]
Long Term Parking: The terminal personnel will direct you to long term parking and issue a parking pass which will include your anticipated return date along with other pertinent information.
Space A.net – Wright-Patterson, Take-A-Hop, Poppin' Smoke, AMC Official Site, AMC Official Site FAQs, Space A Flights, Base Ops, Inbound/Outbound Destinations, Base Directory Passenger Terminal

Lodging
Wright-Patterson Inn Address: Bldg. 825, Area A 2439 Schlatter Drive Wright Patterson AFB, OH 45433 Phone: (937) 257-3451 DSN: 787-3451 Fax (DSN): 787-2488 Reservations Phone: (937) 257-3451/(937) 257-3810 DSN: 787-3451/787-3810 Fax (DSN): 787-2787 –  Latitude, Longitude – 39.806409633262, -84.0416550636292
On base shuttle service
Website: http://wpsv.wpafb.af.mil/reservation.htm
Google Map, Hotels Wright-Patterson.pdf, Military Hotels, Air Force Inns
Trip Advisor, Hotel Guides, PCS Lodging, Yahoo Local, Dex Knows
My Base Guide – Travel, Armed Forces Vacation Club – Ohio
Military One Source – Using Military Lodging and Facilities for Leisure
Military Living – Ohio Temporary Military Lodging, About Careers – Temporary Lodging
RV Parks and Campgrounds: Military Campgrounds Bass Lake FamCamp, Camping Road Trip Bass Lake, Ohio State Parks near Dayton, Cedar Brook, Ohio Camper, Good Sam 

Restaurants & Nightlife
Google Map, Gogobot, My Base Guide, Yelp, Yahoo Local, Boo Rah, Trip Advisor, Military.com Base Guide, Dex Knows, Virtual Tourist
Dayton.com, Dayton Local, Dayton CVB, The Culture Trip, Zomato, Downtown Dayton, Movoto, Bring Me That, Melting Pot, Biz Journals Top 25 Restaurants, Open Table, Eat Street
—-
Phone Numbers
Military.com Base Guide – Base Directory, Inside Wright-Patterson AFB FAQs
Inside Wright-Patterson – Telephone Directory (pdf), My Base Guide
DoD Housing Network – Base Directory, About Careers – Main Phone Numbers
 Base Directory, Yellow Pages – Dayton City Government
—-
Attractions & Discounts
Area Attractions – Air Force One Et Al Museum, Dayton's Oregon Historic District, National Museum of United States Air Force, IMAX Theater at the National Museum, Carrillon Historical Park, Tipp City and Springfield OH Antique Shopping, Garden Station and The Wright Brothers Memorial.
Area Events – Dayton Air Show, American Chronicles: The Art of Norman Rockwell, Masterpieces on Main Art and Wine Festival, Rockstar Energy Mayhem Festival, 5th Annual Cleveland Blues Festival, Cleveland International Film Festival, Blues Fanfaire, Bach Festival and The Cultural Complexity of Jewelry.
Google Map, 88th Force Services Squadron, Roadside America – Ohio, Trip Advisor
FamCamp – Bass Lake, Military.com Base Guide – Ticket and Travel Information
Weird Ohio, Gogobot, Dex Knows, Yellow Pages, My Base Guide, Virtual Tourist
Yahoo Local, Family Days Out, Military.com Resources – Ohio Museum Guide
—-
Transportation
On base shuttle service through billeting
Google Map – Car Rental, Taxi Services
Yellow Pages – Bus Lines, Shuttle, Taxi, Car Rental
Across Town Shuttle, Military Avenue – Car Rental
Dex Knows – Car Rental, Taxi Services, Yahoo Local Car Rental, Taxi Services
Taxi Fare Finder, Virtual Tourist
—-
Medical & Dental
Google Map – Hospitals and Medical Centers, Dentists
About Careers – Medical Care, Military.com Base Guide – Health Care
My Base Guide – Medical Services, Medical and Dental, Dex Knows – Hospitals, Dentists
Yahoo Local – Hospitals and Medical Centers, Dentists
—-
Guides
MapQuest – Dayton OH,  Commissary, AAFES, Military Living, 88th Force Support Squadron
RV Park Reviews, Distance Between Cities, Military.com Base Guide – Family Services
My Base Guide – Services, Family Assistance, Surrounding Communities
—-
Military Organizations
RAO Tel: (937) 257-3221 Fax: (937) 656-1786
Tel (DSN): (312) 787-3221  Fax (DSN): (312) 986-1786
RAO Address
2000 Allbrook Drive
Area A  Building #2
Wright-Patterson Air Force Base, OH 45433-0000
Military.com Base Guide – Vets and Retirees, Inside Wright-Patterson – RAO
Google Map – Veterans Organizations, Government Offices
Cleveland.com, Inside Wright-Patterson AFB, USO – Central and Southern Ohio
Yellow Pages, Dex Knows, Yahoo Local
—-
Excellent Links
City of Dayton, Info Please – Ohio, American Red Cross, Vet Friends, Dayton Airport
Military Only Travel – Ohio, Worthy Websites, Fastport – US Passport Help Guide