Posts Tagged 'San Angelo'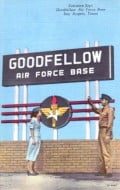 As of 20 Nov 14 Goodfellow says they have no flight line, therefore no Space A at all.
———-
Goodfellow Air Force Base is a non-flying United States Air Force base located in San Angelo, Texas. As part of Air Education & Training Command (AETC), Goodfellow's main mission is cryptologic and intelligence training for the Air Force, Army, Coast Guard, Navy and Marine Corps. Military firefighters are also trained here as part of the 312th Training Squadron. It is the home of the 17th Training Wing (17 TRW). The base is named for World War I aviator First Lieutenant John J. Goodfellow, Jr.
http://en.wikipedia.org/wiki/Goodfellow_Air_Force_Base
———————-
Facebook Forum
https://www.facebook.com/groups/348467078566446/
———————
Facebook Page
https://www.facebook.com/GoodfellowAirForceBase?filter=2
———————
Retiree Activities
17 TRW/CVRS
171 Valiant St
Goodfellow AFB TX 76908-4402
Hours: 1000 – 1200 Tuesday & Thursday
Phone: 325-654-5388
email: 17trw.xp@us.af.mil
http://www.goodfellow.af.mil/units/retireeactivitiesoffice.asp
http://www.military.com/base-guide/goodfellow-air-force-base/contact/retiree-activities-office/10080
———————
Lodging
http://hotelguides.com/texas/goodfellow-afb-tx-hotels.html
http://af.dodlodging.net/propertys/Goodfellow-AFB
http://military-hotels.us/texas/goodfellow-afb-tx.html
http://www.militarylodging.us/component/content/article/62-texas/151-angelo-inn
http://www.pcs-lodging.com/base/Goodfellow-AFB.aspx
http://www.tripadvisor.com/Hotels-g56609-San_Angelo_Texas-Hotels.html
http://www.hotelsanddeals.com/goodfellow_air_force_base.html
http://usmilitary.about.com/od/armybaseprofiles/ss/Goodfellow_5.htm
http://www.rvparkreviews.com/regions/Texas/Goodfellow_AFB.html
http://www.yellowpages.com/goodfellow-afb-tx/hotels-and-motels?g=Goodfellow+Afb%2C+TX&q=hotels+and+motels
Military Living – Texas Temporary Military Lodging, All The Rooms
——————–
Restaurants
http://restaurants.find-near-me.info/in/goodfellow-afb-tx
http://www.yellowpages.com/goodfellow-afb-tx/restaurants
http://www.visitsanangelo.org/directoryListings/category/4
http://www.menuclub.com/texasrestaurantguide/sanangelorestaurants/
http://www.yelp.com/search?cflt=restaurants&find_loc=Goodfellow+AFB%2C+TX+76908
http://www.tripadvisor.com/Restaurants-g56609-San_Angelo_Texas.html
http://search.yahoo.com/local/s;_ylt=AgZL2neLuGYMETx.WBZ9poGHNcIF;_ylv=3?p=Restaurants&addr=San+Angelo%2C+TX
——————-
Attractions/Things to Do
http://www.sanangelo.org/schedule_vi.php
http://www.yellowpages.com/goodfellow-afb-tx/attractions?g=Goodfellow+Afb%2C+TX&q=Attractions
http://www.americantowns.com/tx/goodfellowafb-things-to-do
http://visitsanangelo.org/?gclid=COHI8f_TqrwCFYtV4godwWEAYw
http://visitsanangelo.org/?gclid=CI2JxI_l7rsCFSgB4god4zAArw  (very nice page)
http://livability.com/san-angelo/tx/attractions
http://www.tripadvisor.com/Attractions-g56609-Activities-San_Angelo_Texas.html
——————-
Ground Transportation
http://www.yellowpages.com/goodfellow-afb-tx/car-rental?g=Goodfellow+Afb%2C+TX&q=car+rental
http://local.yahoo.com/TX/San+Angelo/Travel+Lodging/Taxi+Services
http://www.yellowbook.com/yellow-pages/?what=amtrak+station&where=san+angelo%2C+tx
http://www.yellowpages.com/goodfellow-afb-tx/bus-lines?g=Goodfellow+Afb%2C+TX&q=bus+lines
http://www.magicyellow.com/category/airport_transportation_service/goodfellow_afb_tx.html
http://www.yellowpages.com/goodfellow-afb-tx/taxi-service?g=Goodfellow+Afb%2C+TX&q=Taxi+Service
——————–
Medical/Dental Centers
http://usmilitary.about.com/od/armybaseprofiles/ss/Goodfellow_9.htm
http://www.yellowpages.com/san-angelo-tx/medical-clinics
———————-
Maps, Guides and Base Facilities
http://www.military.com/base-guide/goodfellow-air-force-base
http://www.shopmyexchange.com/exchangelocations/goodfellowafbstore.htm
https://www.commissaries.com/stores/html/store.cfm?dodaac=HQCMC1
http://usmilitary.about.com/od/armybaseprofiles/ss/Goodfellow_2.htm
http://www.militaryinstallations.dod.mil/MOS/f?p=MI:CONTENT:0::::P4_INST_ID,P4_CONTENT_DIRECTORY,P4_TAB:4420,ALL,IC
———————–
Military Organizations
http://www.sanangelo.org/downhome/living/organizations_military.php
http://www.yellowpages.com/san-angelo-tx/veterans-military-organizations
http://www.namesandnumbers.com/texas/san-angelo/yellow-pages/veterans-military-organizations
————————-
Phone Numbers
http://usmilitary.about.com/od/armybaseprofiles/ss/Goodfellow_3.htm
http://www.dodhousingnetwork.com/air-force/goodfellow-afb/base-directory.php?i=46
————————-
Other Excellent Links