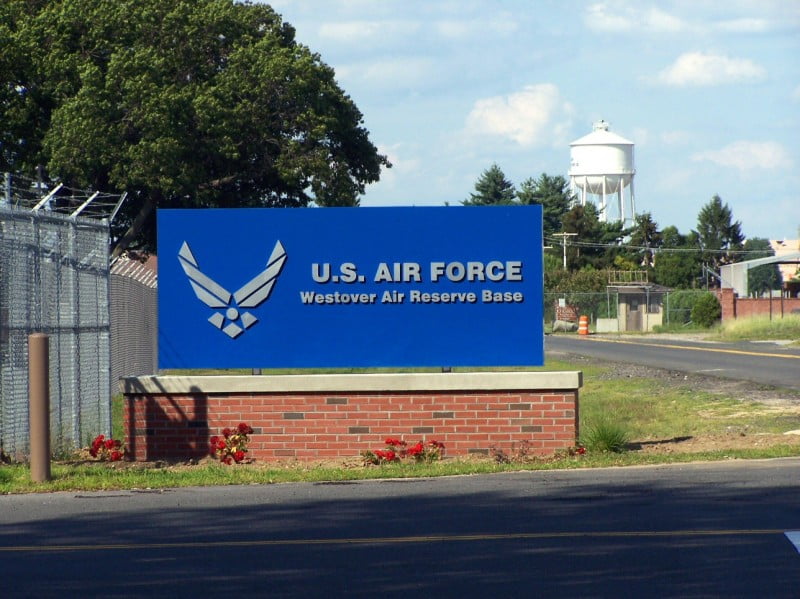 Facebook
Westover ARB, Kelly R Goonan, Westover Lodging
—-
Space A Information
Hanger 3 – South Wing
Phone (413) 557-3453/2622
(413) 557-2549 – Space A Hotline  –  Fax (413) 557-3147
E-mail [email protected]
Space-A Schedule: Smart Sheet – The flight recording will not be updated moving forward. All information will be located on the Space A Dashboard.
Aircraft services hours are M-F 0700-2330 the pax terminal is not manned. 
No arrival or departure flight-time information will be provided – show times only
When sending a FAX, please "ATTN: Space-A Travel Section"
Flight schedules are posted on the 20th of each month for the following month's flights.
Common Destinations: On average, Westover C-5's travel to Europe twice per week. Trips to the Pacific are sporadic.  
Long-Term Parking Available.  Can stay indefinite as long as registration is good.  Located about 1/3 of a mile from Passenger Terminal.  Ask customer service at passenger terminal for more information.
—-
Lodging
Flyers Inn  –  Billet: 413-593-5421 – DSN: 589-2700 
Fax (DSN): 589-2835 – Reservations Phone: (413) 557-2854 – DSN: 589-2700
Latitude, Longitude  –  42.201414, -72.544397
Google Maps – Hotels, Motels, Bed & Breakfast, RV Parks, Campgrounds, Vacation Rentals
Hotel Guides, Trip Advisor – Springfield Hotels, Chicopee Hotels, Ludlow Hotels, Roadside America
Vacation Rentals, PCS Lodging, Air Force Inns, Chicopee Bed & Breakfast, Trail Link
Yahoo Local – Hotels, Motels, Bed & Breakfast, RV Campgrounds 
Trivago, Hotel Planner – Ludlow, Chicopee, Springfield
Hotel Guides, Military Hotels, Kayak, Choice Hotels, Expedia, Westover Force Support Squadron
Yellow Pages – Hotels & Motels, Bed & Breakfast & Inns, RV Parks & Campgrounds, Vacation Rentals
Armed Force Vacation Club – Inland, Coastal, Military Living Massachusetts Temporary Military Lodging
—-
Restaurants & Bars
Yellow Pages – Restaurants, Restaurants & Bars, Cafes, Bars Pubs & Clubs, Lounges, Sports Bars, Food Delivery, Fast Food
Restaurants: BooRah, Yelp, TripAdvisor, Zomato, White Pages, All Menus, Business Finder, Happy Cow
Nightlife: Yelp – Bars, Travel Tips USA Today, Eventful, Trip Advisor, City Maps, Valley Visitor, Business Finder, 
Sports Bars: Yelp, Rumble Seat, Business Finder
Food Delivery: Yelp, Zomato, Grub Hub, Delivery Express, Business Finder 
—-
Phone Numbers
Westover ARB – Phone Directory, My Base Guide – Directory, Base Directory
—-
Transportation
Google Map – Car Rental, Taxi, White Pages – Ludlow Taxi Services
Find Near Me – Airport Transportation, Yellow Pages – Car Rental
Taxi 2 Logan Airport, Taxi Fare Finder, Distance Between Cities
Yahoo Local – Car Rental, Taxi Services, Super Shuttle
—-
---
Attractions/Discounts
Area Attractions – Yankee Candle Company, Six Flags New England, Naismith Memorial Basketball Hall of Fame, The Zoo at Forest Park, CityStage / Symphony Hall, The Dr. Seuss Sculpture Garden/Dr. Seuss Park, Springfield Science Museum
Google Map, Find Near Me – Ludlow, Yahoo Local
Roadside America, Groupon, Family Days Out, Military.com Massachusetts Museum Guide
—-
Medical & Dental
Google Map – Hospitals, Dentists, US Hospital Finder – Chicopee
Yellow Pages – Chicopee Hospitals, Yahoo Local – Hospitals, Dentists
Shriners Hospital for Children (Springfield)
—-
Guides
MapQuest – Springfield, AAFES, Commissary, Military Living
Westover Answers to Various Base Topics, My Base Guide
—-
Military Organizations
439 MSG/CVR-RAO
171 Galaxy Ave, Bldg 5100, Ste 110
Westover ARB – Chicopee MA 01022-1431
Hours: 1000 – 1200, 1300 – 1500, Monday – Friday
Phone: 413-557-3918/3424
E-mail: [email protected]
Google Map, AOL Yellow Pages, Yellow Pages, Yahoo Local
Business Finder, Massachusetts USOs, Addresses.com
Manta, Westover Air Reserve Base, Westover ARB Questions
—-
Excellent Links
American Red Cross, Info Please – Massachusetts, 
Vet Friends, Fast Facts, Emergency Assistance