New River MCAS Jacksonville NC 28540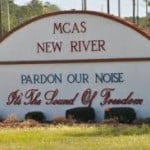 Marine Corps Air Station New River is a United States Marine Corps helicopter and tilt-rotor base in Jacksonville, North Carolina, in the eastern part of the state. In 1972, the airfield was named McCutcheon Field for Brigadier General Keith B. McCutcheon, one of the fathers of Marine Corps helicopter aviation. Near Marine Corps Base Camp Lejeune, it shares some facilities with Camp Geiger. The base was originally 29 parcels of land, a simple stretch of tobacco farm that was purchased for $64,502 in 1941. Officials at Camp Lejeune investigated the area in search of an existing airfield for hosting aircraft in support of amphibious operations. Capt. Barnett Robinson, a member of Marine Glider Group 71, concluded in his search that the farmland would suit the Marine Corps' needs.
http://en.wikipedia.org/wiki/Marine_Corps_Air_Station_New_River
—————
Facebook Forum
https://www.facebook.com/groups/363226967089938/
—————
Facebook Page
https://www.facebook.com/mcasnewriver
—————
Space A Information
Primarily a Helo base but has some other traffic.
MCAS New River Base Operator – (910) 451-1113
There is no space A program at MCAS New River
I couldn't find a # for Space A. If you know of one or find out, please let me know.
————–
Space A.net
Retiree Activities
Retiree Affairs – (910) 449-5255 – Veterans Affairs – (910) 449-6963
http://www.military.com/base-guide/marine-corps-air-station-new-river/vets-retirees
—————
Lodging
http://www.mapquest.com/?le=t&q=city%3AJacksonville#b2c419aca004c4ac65c986ff
http://www.mccsnr.com/lodging.html
http://usmilitary.about.com/od/usmcbase/ss/NewRiver_5.htm
http://military-hotels.us/north-carolina/new-river-nc.html
http://www.mybaseguide.com/Military/121-5-0/mcas_new_river_travel_all_listings
http://www.yellowpages.com/search?search_terms=hotels+and+motels&geo_location_terms=Jacksonville%2C+NC
http://www.pcs-lodging.com/base/New-River-MCAS.aspx
http://www.tripadvisor.com/Hotels-g49242-Jacksonville_North_Carolina-Hotels.html
http://travel.yahoo.com/p-hotel-478289-jacksonville_hotels-i
http://search.yahoo.com/local/s;_ylt=AjF1ZBaW1oei9j9tzSkx0NmHNcIF;_ylv=3?p=hotels&addr=Jacksonville%2C+NC
http://www.hotels.com/de1727943/hotels-near-marine-corps-air-station-new-river-jacksonville-united-states-of-america/
Military Living – North Carolina Temporary Military Lodging
—————
Restaurants
http://www.mapquest.com/?le=t&q=city%3AJacksonville#b20cf6f052949aeecd3457e6
http://www.military.com/base-guide/marine-corps-air-station-new-river/food-drink
http://www.tripadvisor.com/Restaurants-g49242-Jacksonville_North_Carolina.html
http://www.militaryavenue.com/New+River+Marine+Corps+Air+Station/423/Fast+Food,+Delivery+-+Carry+Out/154/Listing.aspx
http://www.localeats.com/q/Jacksonville-NC-restaurants/
http://jacksonvillenc.areaconnect.com/restaurants/
http://www.mybaseguide.com/Military/121-2-0/mcas_new_river_dining_all_listings
http://local.yahoo.com/NC/Jacksonville/Food+Dining/Restaurants/Restaurants
http://travel.yahoo.com/p-travelguide-2859933-jacksonville_restaurants-i
http://www.yellowpages.com/jacksonville-nc/restaurants
http://www.yellowpages.com/search?search_terms=restaurants&geo_location_terms=Jacksonville%2C+NC
—————
Attractions/Things to Do
http://www.mapquest.com/?le=t&q=city%3AJacksonville#ec978cdf7b76a8fd5549bec7
http://www.yellowpages.com/search?search_terms=Tourist+info+%26+Attractions&geo_location_terms=Jacksonville%2C+NC
http://www.mccsnr.com/happenings/index.htm
http://www.singletracks.com/bike-trails/mcas-new-river-trail.html
http://www.tripadvisor.com/Attractions-g49242-Activities-Jacksonville_North_Carolina.html
http://travel.yahoo.com/p-travelguide-2859944-jacksonville_things_to_do-i
http://www.mybaseguide.com/Military/121-6-0/mcas_new_river_entertainment_all_listings
http://alltrails.com/trail/us/north-carolina/new-river
http://www.yellowpages.com/jacksonville-nc/attractions?g=Jacksonville%2C+NC&q=Attractions
http://search.yahoo.com/local/s;_ylt=AwrSyCRDU.9SkAoA8T3umYlQ?p=attractions&addr=Jacksonville%2C+NC&fr2=sb-top&n=15
————–
Transportation
(910) 451-7744
84 Holcomb Blvd, Camp LeJeune NC
Yellow Cab Co
(910) 353-1111
140 Ellis Blvd, Jaxksonville NC
Wilmington International Airport (ILM)
(910) 341-4333
1740 Airport Blvd Ste 12, Wilmington NC
—-
http://www.mapquest.com/?le=t&q=city%3AJacksonville#bc9cc97cf092dd7f6932f7b4
http://www.yellowpages.com/jacksonville-nc/car-rental?g=Jacksonville%2C+NC&q=car+rental
http://www.yellowpages.com/jacksonville-nc/taxi-service?g=Jacksonville%2C+NC&q=Taxi+Service
http://www.yellowpages.com/jacksonville-nc/limo-service?g=Jacksonville%2C+NC&q=Limo+Service
http://www.yellowpages.com/jacksonville-nc/shuttle-service?g=Jacksonville%2C+NC&q=Shuttle+Service
http://search.yahoo.com/local/s;_ylt=AwrSyCWSU.9Sc30AWZrumYlQ?p=Bus+Station&addr=Jacksonville%2C+NC&fr2=sb-top&n=15
http://search.yahoo.com/local/s;_ylt=AwrSyCV9U.9SAlsAyyzumYlQ?p=taxi+services&addr=Jacksonville%2C+NC&fr2=sb-top&n=15
http://search.yahoo.com/local/s;_ylt=AwrSyCRcU.9SRGsAtibumYlQ?p=rental+cars&addr=Jacksonville%2C+NC&fr2=sb-top&n=15
—————
Medical/Dental Centers
http://www.mapquest.com/?le=t&q=city%3AJacksonville#a25d7fe8fc2d2bb65046e0b6
http://www.yellowpages.com/search?search_terms=hospitals+and+medical+centers&geo_location_terms=Jacksonville%2C+NC
http://usmilitary.about.com/od/usmcbase/ss/NewRiver_9.htm
http://www.military.com/base-guide/marine-corps-air-station-new-river/health-care
http://www.mybaseguide.com/Military/121-18-0/mcas_new_river_medical_dental_all_listings
http://www.militaryinstallations.dod.mil/MOS/f?p=MI:CONTENT:0::::P4_INST_ID,P4_CONTENT_TITLE,P4_CONTENT_EKMT_ID,P4_CONTENT_DIRECTORY:3790,Health%20Care/Special%20Needs,30.90.180.30.180.0.0.0.0,61
http://www.militaryinstallations.dod.mil/MOS/f?p=MI:CONTENT:0::::P4_INST_ID,P4_CONTENT_TITLE,P4_CONTENT_EKMT_ID,P4_CONTENT_DIRECTORY:3790,Health%20Care,30.90.180.30.30.0.0.0.0,49
———————-
Maps, Guides and Base Facilities
http://www.mapquest.com/?le=t&q=city%3AJacksonville#fd703cf699e07edf1666ea06
http://usmilitary.about.com/od/usmcbase/ss/NewRiver_2.htm
http://www.military.com/base-guide/marine-corps-air-station-new-river
http://militaryliving.com/new-river-marine-corps-air-station-(nc06r1).html
http://www.mccslejeune.com/mcx/nrmcx.html
http://www.commissaries.com/stores/html/store.cfm?dodaac=HQCCA3
http://www.militaryinstallation
———————–
Military Organizations
http://uso-nc.org/
https://www.yellowpagesgoesgreen.org/Jacksonville-NC/Veteran+-and-+Military+Organizations
http://yellowpages.aol.com/veterans-and-military-organizations/nc/jacksonville/
http://www.yellowpages.com/jacksonville-nc/veterans-military-organizations
————————-
Phone Numbers
http://www.dodhousingnetwork.com/marines/mcas-new-river/base-directory.php
http://usmilitary.about.com/od/usmcbase/ss/NewRiver_3.htm
http://www.mybaseguide.com/directory/121/mcas_new_river
http://www.military.com/base-guide/marine-corps-air-station-new-river/base-directory
http://www.militaryinstallations.dod.mil/MOS/f?p=MI:CONTENT:0::::P4_INST_ID,P4_CONTENT_DIRECTORY,P4_TAB:3790,ALL,IC
————————-
Other Excellent Links
—-
http://www.redcross.org/nc/jacksonville
http://www.mccsnr.com/index.htm
http://www.mapquest.com/?le=t&q=city%3AJacksonville#e4593f7e4069987d84520b96
http://themilitaryzone.com/bases/new_river_mcas.html
https://www.vetfriends.com/organizations/directory.cfm?state=NC
http://www.mybaseguide.com/marines/121-1128/mcas_new_river_local_area
http://www.newriver.marines.mil/
http://www.mybaseguide.com/Military/121-11-0/mcas_new_river_services_all_listings
http://www.militaryinstallations.dod.mil/pls/psgprod/f?p=132:CONTENT:0::NO::P4_INST_ID,P4_INST_TYPE:3790%2CINSTALLATION
http://www.militaryinstallations.dod.mil/MOS/f?p=MI:CONTENT:0::::P4_INST_ID,P4_CONTENT_TITLE,P4_CONTENT_EKMT_ID,P4_CONTENT_DIRECTORY:3790,Installation%20Overview,30.90.30.30.30.0.0.0.0,1
http://www.militaryinstallations.dod.mil/MOS/f?p=MI:CONTENT:0::::P4_INST_ID,P4_CONTENT_TITLE,P4_CONTENT_EKMT_ID,P4_CONTENT_DIRECTORY:3790,Emergency%20Assistance,30.90.210.30.270.0.0.0.0,35