[smartads] Facebook
NS Guantanamo Bay, Passenger Terminal, Joint Task Force

Space-A Information
There are several Space-A flight opportunities to NS Guantanamo Bay. There is a Navy Lodge and restaurants and great beaches at GITMO so check to see if there indeed Space-A seats available.  Access is closed except requires sponsorship by someone at NS Guantanamo Bay in order to travel as a visitor/guest.  A Base Entry Clearance is required to travel Space-A to Guantanamo Bay.  The clearance is only good for the dates specified on the form, usually no longer than 30 days at a time. You can reapply for a new Entry Clearance for each trip.  At the present time (March 2015) the POC at GITMO in case you know someone on the island:
DOUGLAS P DREHER
Physical Security Officer
Naval Station Guantanamo Bay
PSC 1005 BOX 60
FPO AE 09593
Office: 011-5399-4505
DSN: 660-4505
Cell: 011-5399-55222
NIPR: [email protected]
SIPR: [email protected]
Passenger Terminal  E-mail: [email protected]
Counter – Comm: 011-5399-6305/6199/ 6408/6204/6364/6388/6397
DSN: 660-6305/6199/6408/ 6204/6364/6388/6397
Fax – Comm: 011-5399-6170   –   DSN: 660-6170
Common Destinations:

NAS Jacksonville, Florida, Baltimore- Washington International Airport (BWI), Maryland,
Navy/AMC Air Terminal Norfolk, Virginia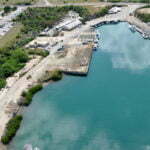 Lodging
About Careers – Temporary Lodging, Navy Lodge, Car For Hire – Hotels
Military Installations – Temporary Housing, Trivago, Hotel Caimanera
Military Living – Cuba Temporary Military Lodging, UJ Space-A House Swapping, Sitting & Hosting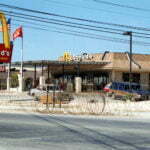 Restaurants & Night Life
Clubs
The Goat Locker, located on Marine Hill is for Chief Petty Officers and civilian equivalents only. Music, television, darts, a large patio, and snacks are available.
The Acey/Duecy Club is located in the Windjammer Club and is open to all E-5's and E-6's and civilian equivalents only. Music, television, darts, a large patio, and snacks are available.
Rick's Lounge, located in the Bayview, is for officers and civilian equivalents only and features pool tables, darts, and DJ music.
The Windjammer All Hands Club is the place to be for pool, darts, DJ music, and special events such as tournaments, theme nights, and Bingo.
The Tiki Bar is an All Hands outdoor bar located behind the Bayview Club. Listen to some rhythmic Caribbean sounds with a cool breeze and refreshing tropical beverage.
Restaurants
Bayview Dining Room is an All Hands dining facility open for dinner. The relaxing restaurant allows residents to have menu items. Thursday nights enjoy Mongolian Barbecue on the patio overlooking the bay. Brunch is available on Sundays.
The Rusty Anchor is located inside the Bowling Center and offers branded food concepts Kentucky Fried Chicken Express and A&W All American Food Express.
The Jerk House, located between the Tiki Bar and the transient enlisted quarters, cooks Jerk chicken or pork on an outdoor grill. With plenty of space to relax while dining, the Jerk House offers great Caribbean food!
The Windjammer Cafe offers lunch and dinner specials, and a menu of sandwiches, Pizza Hut pizza, and soup and salad bar.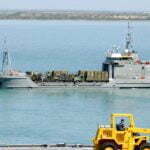 Phone Numbers
About Careers – Main Phone Numbers, Military Bases.us
Military.com – Phone Directory, Base Directory, Military Installations – Installation Contacts
Attractions & Discounts
Car For Hire – Travel Packages, Cruises, Tours, Entertainment
JTF Guantanamo (photo gallery), Spanish Fly – Fishing at Guantanamo Bay
Facebook Pages: MWR GTMO, Sport & Fitness, Lighthouse Museum, Community Club, Community Library
Transportation
A lot of Transportation Information for Cuba
Car For Hire, Car Rental Cuba, Distance Between Cities
Military.com – Transportation, Travel Benefits, UJ Space-A Traveling Club
About Travel – Top Cuba Travel Companies for Americans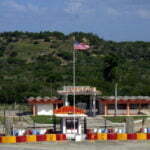 [smartads] Medical & Dental
A lot of Medical and Dental Information for Cuba
 About Careers – Medical Care, Naval Hospital Facebook
Military Installations – Health Care, Health Care/Special Needs
Military.com – Medical Services Directory, Health and TRICARE, Dental Services

Guides
Military Installations – Directions, Family Center, Legal Assistance
Military Living, Military.com – Commissary/Exchange, Overview, MWR
Base Directory – Exchange, Navy Exchange, Authorized Patrons, About Geography (with map) – Cuba
About Careers – Installation Overview, Location/Driving Directions
About Travel – Cuba Travel Guide, How to Travel to Cuba if you are an American
Military Organizations
US Interest Section – Havana (Consulate), Inside AMC Travel, Vet Friends
US Customs and Border Protection – Travel to Guantanamo Bay, Travel to Cuba, Travel to the US from Cuba with Cuban Cigars, US Economic Sanctions Information
Excellent Links
Base Directory – American Red Cross, Info Please – Cuba, Guantanamo Bay – What It's Really Like (good pictures)
About Education – History of Guantanamo Bay, Reuters – Inside Guantanamo Bay (nice little site with several pictures)
CNN Guantanamo Bay Naval Station Fast Facts (another nice little site with pictures), Military.com – Must Know Items
 Military Installations – Fast Facts, Installation Overview, Emergency Assistance, Military Only Travel – Cuba, Worthy Websites, UJ Space-A Adventure Stories